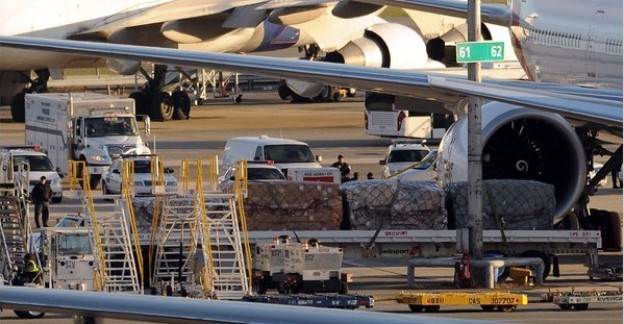 It is an essential lubricant of the global economy — the multibillion-dollar air cargo industry, which every day carries millions of express packages of every shape and size around the world, parcels that can include things as diverse as an electronic component and a human body part.


But the discovery last week that terrorists had used United Parcel Service and FedEx to ship two explosive devices has set off a debate over what can be done to improve cargo security without damaging a business built on getting packages anywhere, quickly and cheaply.
The Obama administration is expected to announce measures soon to tighten the screening of air cargo, an area long viewed by experts as a weak link in post-9/11 security procedures. But several transportation experts say that placing a 100 percent screening requirement on cargo carriers — like the one that now exists for cargo placed on passenger airlines — would cause the system of express air delivery to grind to a halt.
Those experts note that most shipments carried by air — about 80 percent — come from frequent customers who have longstanding relationships and security programs in place. The greatest risks, they say, involve "one-off" packages by random customers, like the recent explosive-laden shipments from Yemen headed to Chicago that initially eluded detection.
"You cannot stop the flow of time-sensitive air freight," said Yossi Sheffi, the director of the Center for Transportation and Logistics at the Massachusetts Institute of Technology. "It is simply not realistic."
Officials at the Transportation Security Administration declined Monday to discuss what new steps might be imposed. But aides on Capitol Hill said they expected the Obama administration to demand physical inspection of certain "high risk" cargo carried on all-cargo flights, particularly shipments coming from nations where terror groups are known to operate, like Yemen.
The administration is also considering demanding more notice about the contents on cargo flights bound for the United States, so officials can perhaps intervene to request additional screening before a flight takes off. The current requirement for cargo manifests is four hours before the flight is scheduled to arrive.
Experts say air cargo poses unique dilemmas because of the vast volume of packages and the patchwork system of regulations governing inspections. In addition, air cargo moves both on airlines that carry only freight and on passenger planes. And the freight industry is by no means uniform. There are giant players like FedEx and U.P.S. and hundreds of small companies.
For now, freight carried on all-cargo planes does not have as stringent screening requirements as freight on passenger planes. Also, foreign carriers that bring cargo into the United States operate by their own sets of rules, which vary significantly from country to country.
"The issue is you don't have a seamless set of standards that apply globally from end to end in the global network with the same level of sensitivity," said Robert W. Mann Jr., an aviation industry expert in Port Washington, N.Y.
Still, T.S.A. officials emphasized Monday that even with the latest incident, air cargo security has improved in recent years, as demanded by Congress, particularly on domestic passenger flights, where cargo is now always inspected for threats before it is loaded.
"We have taken significant steps to strengthen the security of international air cargo," John S. Pistole, the T.S.A. administrator, said in a statement. "T.S.A. will continue to evolve our security procedures."
Every day, 20 million pounds of cargo, or 16 percent of the total freight carried by air into or out of the United States, are transported by passenger planes, according to the International Air Cargo Association. The vast majority, or 84 percent, is carried on cargo planes.
"Screening all these packages is not as easy as screening passengers — it's a much more difficult thing to do and do effectively," said Edmund S. Greenslet, the publisher of The Airline Monitor, an industry trade publication. "It's the weak link in the whole airline system."
The air cargo system is built into the way many companies do business. Medtronic, the world's biggest producer of medical devices, for example, built a distribution center near a FedEx hub in Memphis to send out thousands of devices like spinal implants and heart pacemakers daily to hospitals worldwide.
The way cargo is packed also makes it difficult to inspect. For example, many containers of goods headed to the United States arrive at airports shrink-wrapped and are given an exemption from the inspection requirement, said Stephen M. Lord, director of homeland security and justice at the Government Accountability Office.